Transparant Dry Age Cabinets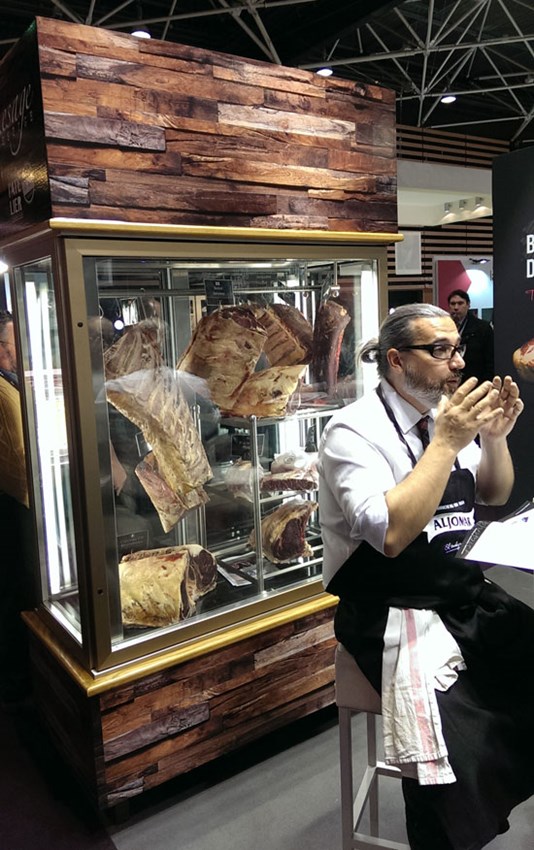 Lyon
Lesage Prestige
Lesage Prestige sells meat of the highes quality. The beef is prepared according the Japanese craft and tradition and nowadays known as reference product of the Japanese and global recovery. The result changes into an exceptional and unique product because of the different farms and environment. From the very beginning until the en, the animals have received the most loving care and find themselves in optimal conditions. This way, the meat of several generations is traceable and identifiable since 1600.
In order to give the meat more flavor, texture and aromo than usual, Lesage Prestige uses the Dry Age Cabinets from Van Weel Koeltechniek. Quality meat must be treated the best as possible.
Relevante Informatiebladen

Zegro - Rotterdam
Transparant Dry Age Cabinet with tiles at the back, finished with wood and illuminated letters.
This is also a "Detached Dry Age Cabinet" More information ›

 DAC2DV Documentation

Saaremaa Meat Factory
Transparant Dry Age Cabinet with soft shiny black finish.

DAC2DV Documentation
DetachedTransparant DAC2DS performed with Custom Design.

DAC2DV Documentation

Horecava 2015 - Makro
Transparant Dry Age Cabinet with wooden plank at the back.

DAC2DV Documentation

Little Falcon
Full transparant Dry Age Cabine

Presentation Cabinet: Nice to Meat
360 degrees two-doors transparant dry Age Cabinet wioth dark wood finish.

DAC2DV Documentation
Durability
It is with great pride that we can inform you that the standard 1 and 2 door Dry Age Cabinets, and all derived from these, are working and delivered with a natural refrigerant (R600a). This Means that we more than comply with the protocol of Montréal.


Van Weel Refrigeration works according to the new


Supply Conditions

 of the NVKL.
---