Detached Dry Age Cabinets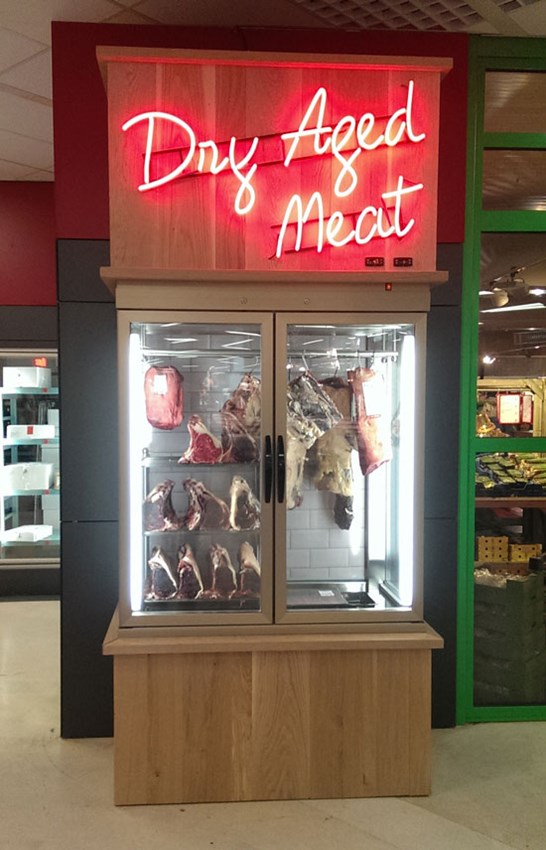 Rotterdam
Zegro
Zegro is one of the biggest wholesales in the Netherlands, located in Rotterdam. It supplies a complete range of food and non-food for catering and large scale consumer. In the incredibly large supermarket Zegro is a detached two-door Dry Age Cabinet from Van Weel Koeltechniek, finished with a wooden casing that fits into the store.
With the large enlightened words Dry Aged Meat, the customer can easely see from a distence what this cabinet provide.

Horecava Scholarship
A detached two-doors Dry Age Cabinet and a one-door Dry Age Cabinet with standard wood finish.

  Wooden Dry Age Cabinets Folder
DetachedTransparant DAC2DS performed with Custom Design.

DAC2DV Documentation
Type DAC 2 DRB
A detached Dry Age Cabinet with two doors.

DAC2DV Documentation
Just Meet - Leiden
Retro-industrial look (On behalf of Van den Burg & Bol).

  Wooden Dry Age Cabinets Folder
Durability
It is with great pride that we can inform you that the standard 1 and 2 door Dry Age Cabinets, and all derived from these, are working and delivered with a natural refrigerant (R600a). This Means that we more than comply with the protocol of Montréal.


Van Weel Refrigeration works according to the new


Supply Conditions

 of the NVKL.
---